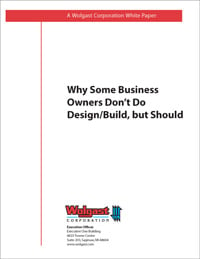 There is a trend slowly moving more business owners to the Design-Build method of construction
and away from Design-Bid-Build. Business owners are realizing the savings in cost, time and hassle
by hiring a Design-Builder to handle both the architecture and construction of their commercial buildings.
In this white paper you will learn about the comparisons of the two construction delivery methods and the benefits that could help you to save time and money while continuing to focus on your business and not your contractors.