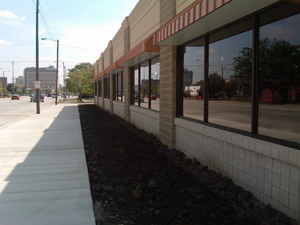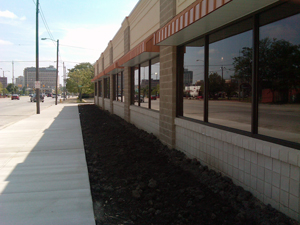 Saginaw, MI – Wolgast Development, LLC, the developer for the Internal Revenue Service in Flint, Michigan, in conjunction with project team members, Wolgast Corporation and CHMP, has achieved Silver certification for New Construction under the Leadership in Energy and Environmental Design (LEED) program of the U.S. Green Building Council (USGBC). Wolgast Corporation provided general contractor services, and CHMP, Inc of Grand Blanc, Michigan provided architecture services.
The new IRS building received LEED Silver certification through sustainable design features and material selections such as the redevelopment of a Brownfield Site partially owned by the Genesee County Land Bank, a heat-island effect-roof, light pollution and water use reduction, public transportation nearby, water efficient landscaping, regional materials used and a LEED Accredited Professional on the team.
This is the second building that Wolgast Development, LLC has developed with Wolgast Corporation as their contractor to achieve LEED Silver this year. The team worked together to designate which LEED points were feasible to obtain during the planning stages of construction and provided the administration to record all necessary information to submit to the USGBC.
According to Eric Schwartzly, LEED AP BC+D, the construction project manager with Wolgast Corporation, "The new IRS building replaces two existing buildings that were dilapidated in an area that's becoming revitalized by neighboring development over the past couple of years. It's become a welcome addition to the neighborhood and surrounding area."
As LEED gains popularity, Wolgast Corporation and partner company, Barnes-Wolgast Construction Services of Grand Rapids, are assisting more customers with their sustainability projects. Currently, Wolgast and Barnes-Wolgast have three LEED APs and one LEED AP BC+D (Building Construction + Design) on staff and have completed seven LEED certified projects, including three LEED Silver.