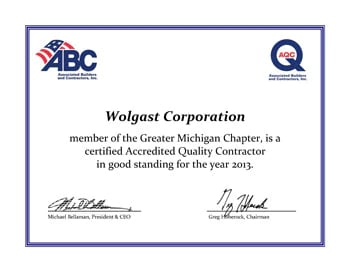 Today, the Associated Builders and Contractors (ABC) awarded Wolgast Corporation with their Accredited Quality Contractor (AQC) recognition. This marks the 20th consecutive year that Wolgast Corporation has achieved this honor!
The AQC award is given to participating contractors that demonstrate their contributions in "six areas of corporate responsibility, including safety, management education, craft training, employee benefits, community relations and outreach".
In addition to Wolgast's commendable safety record, training of Wolgast Restoration's management staff (a new division of Wolgast), and all of the charitable giving that Wolgast gives throughout the Great Lakes Area Region, examples of corporate activities over the past year that helped them achieve the AQC recognition include:
Cross-training opportunities for existing staff among company divisions
Hosting the Wolgast Golf Classic benefitting the Junior Achievement of Northeast Michigan (for the past 16 years)
Providing large Christmas tree structural support for municipal lighting ceremonies in both Bay City and Saginaw Township
Boarding-up run down homes prior to Halloween festivities in October
Wolgast is honored to continue our accreditation as AQC and will continue to work toward this achievement next year and into the future.