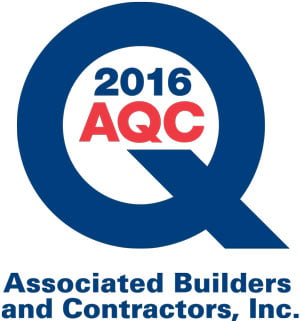 Wolgast Corporation of Saginaw, Michigan today announced that its status as an Accredited Quality Contractor (AQC) has been renewed by the Associated Builders and Contractors (ABC).
"Associated Builders and Contractors is pleased to recognize Wolgast's continued commitment not only to high quality construction, but also to its employees, clients and communities as an Accredited Quality Contractor," said 2016 ABC National Chair David Chapin, president of Willmar Electric Service, Lincoln, Neb. "Wolgast's dedication to responsibly and ethically running its business permeates through every facet of its operation and makes it a terrific ambassador for the merit shop construction community."
Wolgast received the national recognition as a result of meeting high certification standards evaluated by the Associated Builder's and Contractors (ABC), a national association representing approximately 21,000-merit shop construction and construction-related firms across the United States. For the evaluation, Wolgast excelled in the five areas of corporate responsibility, including quality, safety, employee benefits, training, and community outreach. The AQC recognition further defines Wolgast as a contractor who truly cares about its clients, employees, and community, and also, emphasizes the commitment Wolgast places on training and safety to ensure the success of their projects.