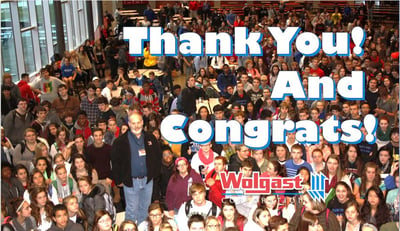 We are delighted, and at the same time disheartened, to announce that Bill Schneider is retiring. His last day was Thursday, April 30, 2020. Bill has been a steadfast employee for 19 years. He started his career with Wolgast as a Field Manager in 2001 working in our Construction Management Division at Midland Public Schools. He retires as a talented Senior Field Manager, but also has held Project Management duties for school projects throughout his tenure here. His co-workers and clients recognize his wealth of knowledge and proficiency in managing long-term and complicated projects.

Bill's retirement is our loss, but a well-deserved respite for him and his family. He plans to do some traveling abroad, spend time with his grandkids and hunt. We all wish Bill the very best as he settles into the next chapter of his life. Bill you will be missed.
Projects Bill has managed during his time with Wolgast: Bullock Creek Schools, Elk Rapids Public Schools, Hastings Public Schools, Kalkaska Public Schools, Midland Public Schools, Northview Public Schools and Sensient Flavors in Harbor Beach, MI.