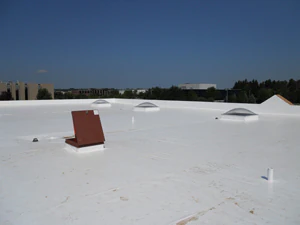 BGI South, LLC, the local developer for the newDepartment of Veterans Affairs Healthcare Annex building on Barnard St. in Saginaw, Michigan, has achieved Silver certification for New Construction under the Leadership in Energy and Environmental Design (LEED) program of the U.S. Green Building Council (USGBC). Wolgast Corporation was the Design/Builder for the building, and Rick Keith of Wolgast Design Group was the architect.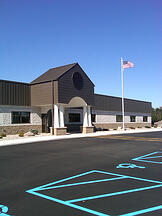 The new VA building received LEED Silver certification through sustainable design features and material selections such as recycled block used for the building exterior, recycled carpet and floor tile, white membrane roofing to minimize heat island effect, a recycling content storage room in the building, skylights throughout the building and draught resistant landscaping.
Wolgast's Design/Build team worked with BGI South, LLC to designate which LEED points were feasible to obtain during the planning stages of construction and provided the administration to record all necessary information to submit to the USGBC. This is the first LEED certified building that BGI South has been commissioned to develop. Lynn Wolgast, the Managing Member of BGI South, LLC, stated "The LEED process is quite a tedious, but worthwhile process. As developers and owners of all building types and uses, we always attempt to develop buildings that are efficient to operate and maintain, but hadn't paid much attention to our waste streams. The LEED program requires special focus on these streams and the environmental aspect that comes with it while also requiring more emphasis on energy efficiency. The advent of LEED has caused the industry to build better buildings that are also more environmentally friendly".
As LEED gains popularity, Wolgast Corporation and partner company, Barnes-Wolgast Construction Services of Grand Rapids, are assisting more customers with their sustainability projects. Currently, Wolgast and Barnes-Wolgast have four LEED APs on staff and have completed six LEED certified projects.
Wolgast Corporation, an Employee-Owned Company, is a progressive provider of professional construction services including Construction Management, Design/Build, General Construction, Architectural/Engineering and Real Estate Development. Founded in 1948, today Wolgast Corporation is one of the largest merit shop construction services firm in Michigan. Wolgast Corporation has established offices in Grand Rapids, Gaylord, Gladstone, and Saginaw, Michigan.
###