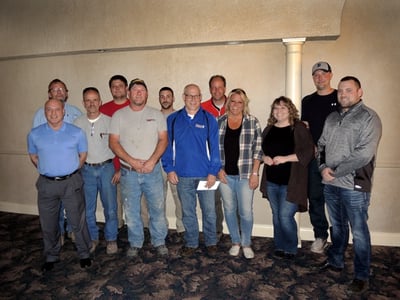 Wolgast Employee-Owners were recognized for their significant commitment to our clients that resulted in a Goodwill Letter sent to the company at our Quarterly Employee Development meeting on Friday, May 12, 2017.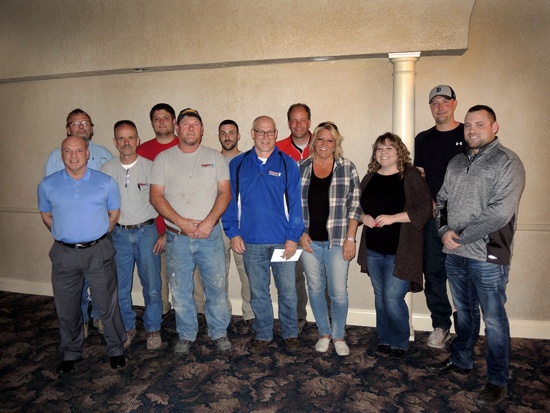 L to R: front - Rick Suitor, Donnie Englehart, Kevin Drake, Bob Pratt, Lisa Sheets, Holli Johnson, Cole Stadler. back - Ron Jackson, Taylor Swaton, Chris Laudenslager, Jason Klein, Kyle Thompson. Missing - Jacob Hadar
The letters included the following statements about our staff:
"The WOLGAST Team communicated well, they were On-Time, and Professional throughout the project. WOLGAST completed this project while we worked our normal business hours. They were never a distraction and were always very considerate of our time and space. The before and after product speaks for itself. We now have a high-quality, professional office area that is a much better reflection of Frankenmuth Industrial. Thank You!" -Jason Hultberg, Frankenmuth Industrial
"We want to take a few minutes to thank Wolgast for the wonderful job they did in the restoration of our house after our fire on October 6th. It was such a traumatic event, but we feel so blessed to have SafeCo Insurance. They are the ones who called Wolgast, and they were already on the job boarding things up and carefully packing our things the very next day." Lynn & Diana Webster
"I'm very grateful for his responsiveness and willingness to take time out his evening with his family to help me. It was a real pleasure to work with him." Sue Pawley
"Both of them worked extremely hard, long days. At the end of each day, they were willing to stay and address our concerns and questions. Extra precautions were taken to ensure that items were not broken during the move or other areas of my home were not damaged by dirt, dust, etc. They were very professional and communicated well. I honestly felt like this whole process was much easier for me because of their dedication to the project." Sue Pawley
"<He> continues to truly go far and above at the end of the day for us. Tonight we had a significant water leak due to a hot water line that runs underground from our Middle School to our Elementary Building. It flooded the basement of the Elementary Building. He is always the very first person on site every day and is the last person to leave. He immediately came to assist us clean uip and resolve the problem. In this day and age it is very rare to find someone who truly honors the customer. This guy exceeds that." Dale Krueger, Hastings Area School System.