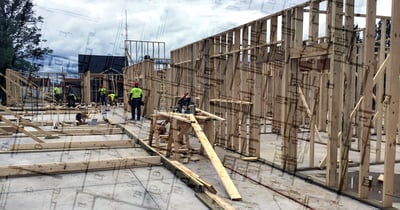 Happy Design+Construction Week (DCW)! DCW is actually associated with an annual tradeshow event organized for Residential Construction and Design industry professionals, this year taking place in Orlando, FL. Even though we are not a Residential Design or Construction Provider, or associated with the DCW event, we didn't want to miss an opportunity to celebrate our Commercial Design + Construction services, as well.
Design+Construction is also known as Design/Build and Wolgast was the first contractor to bring Design/Build to the Saginaw Valley Michigan region. With our in-house our Architects, we plan and execute buildings together as a single-source from start-to-finish for large or small, new construction or remodel projects.
A Little about Design/Build Construction
The time and money saving Design/Build process - is a three-phased approach. The first phase includes the design of a preliminary floorplan, elevation and site plan, on which a budget estimate is based. During this phase, our architect will do a needs analysis to put your ideas and requirements on paper, and our estimator will take these preliminary plans to the market to get a budgetary cost to build. This helps the owner to make educated decisions earlier than the traditional delivery method of Design/Bid/Build. An owner also receives sufficient documentation to take to their financial institution to get their loan process started earlier. Once the Owner is ready to move forward, Phase II begins, which includes final detail construction drawings that contain civil, structural, architectural, mechanical and electrical (as necessary depending on the scope of the project). From there a final budget and schedule can be determined and guaranteed.
Phase III is when the construction happens. Typically, with Design/Build, construction is able to start sooner because the Architect and the contractor are on the same team. Plan reviews, permits, procurement of long lead items, etc. allow construction to begin earlier and proceed without interruption. The time savings and efficiency results in money being saved, and allows your business to start generating the intended revenue sooner.
Wolgast has been in the construction business for almost 75 years and are experts in most of types of commercial buildings. We are systemized for efficiency and our employee-owners are personally invested in the success of your building project. Having the Architect and Contractor on the same team eliminates any possible discrepancies from design to application, as we are the single-source responsible to make these corrections.
We want to celebrate Design + Construction Week because it is a big part of what we do! We are having a drawing for a free swag package of Wolgast items among those who email their name and contact information to wolgast@wolgast.com with the subject "Design + Construction Week Drawing" (one winner – name drawn on Friday, February 11 - good luck!).
If you have any questions about Design + Construction, please call Dr. Michael Shepard, in Wolgast Business Development Department. He'll be happy to discuss your inquiries.
800-WOLGAST | wolgast@wolgast.com
#designconstructionweek