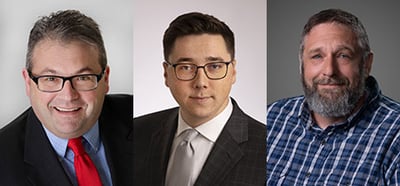 Wolgast Announces Promotions within Design-Build & General Contracting Divisions
Saginaw, MI – Wolgast Corporation announces staff promotions within the Employee-Owned Company.
Eric J. Schwartzly has been appointed Vice President of Construction. He has been with the company since 1997 and most recently held the position of Director of Construction. Schwartzly started as a Field Supervisor, then held positions of Project Manager, followed by Director of Restaurant Construction. As Vice President of Construction, Schwartzly's responsibilities include overseeing project management within the Design-Build, General Contracting, and Restaurant Divisions, guiding his teams toward achieving company strategic objectives, assisting in developing new markets, and retaining Wolgast's long-term and valued clients.
Steven M. Salyers, II has been appointed Director of Preconstruction. Salyers formerly held the position of Preconstruction Manager which he started in 2021. In his new role, Salyers will oversee and guide the preconstruction process associated with Design-Build and General Contracting Divisions. This includes collaborating with clients, project architects, consultants, contractors, and colleagues on the development of early-stage deliverables such as budgets, schedules, project scopes and final designs.
Matt Harris was appointed Director of Field Operations in November 2022. Harris started with Wolgast Corporation in 1997 and has continuously progressed through the organization. In his newest management role, Harris oversees our Construction Field Operations including job site management, our self-performance of trade work, and our equipment fleet. He is charged with upholding the Wolgast Way of speed, quality, budget, and customer service for our clients.