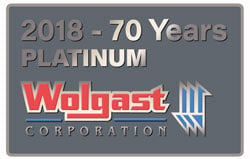 Saginaw, MI, Wolgast Corporation announces that it turns 70 this year. Founded by masonry contractor, Gerald (Jerry) Wolgast, in 1948, the company has grown into a construction powerhouse serving businesses throughout Michigan and beyond. Jerry had a motto of "do it right the first time, every time", and it's still the foundation of the Wolgast Way today as the company reaches its Platinum Anniversary.

Wolgast continues to grow and has recently expanded to five Michigan locations by adding an office in Alpena last year and has a staff of 135 employee-owners from Mid-Michigan, Grand Rapids, Kalamazoo, and Alpena areas. "We credit our longevity and growth to many things, our loyal customers, employee-ownership, systemized processes, a wide range of services, and of course our speed and quality," said President & CEO, Brian Stadler. Jerry's sons, Lynn and, the late, Pat Wolgast, sold the business to the employees in 2006 making it 100% employee-owned.

Going forward, the company prepares to proactively face industry challenges, "as our industry continues to struggle with a labor shortage, our commitment to training will help us continue to serve our clients well into the future," said Stadler.