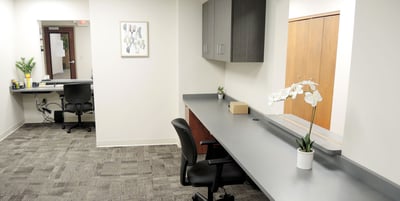 Neil Frank, Wolgast's Director of Architecture, recently designed the remodel of a client's medical clinic. They needed to reconfigure their space for several additional exam rooms at their existing location. According to Neil, "floorplans often have wasted space that can be put to better use". The way a building is used changes overtime, compared to the original plan. He said, in this instance, "The biggest space gains were from reconfiguring their waiting area. This allowed us to expand the number of exam rooms." Another common area used for freeing up space is the storage areas that were once used for file storage. With electronic filing abilities, not as much room is needed for this use.
How offices, whether medical or otherwise, are used are evolving. Now, it may be better to redesign your layout to accommodate current work forces. Having unused office space leads to wasted energy, so planning your newly remodeled space to fit your current occupancy needs should improve the return on a building investment. For instance, reconfigured space can make more room for additional production space, create more space for social distancing, allow for more motivating natural light into work areas, or fresh, new collaborative spaces for brainstorming and creative solutions.
According to Stanley Felderman, pioneer of the total design concept, as quoted in the article, 9 Tips for Designing a Functional and Efficient Office Space, "Light can affect our physical and mental well-being. Additionally, studies reveal that natural light can improve our mood, boost energy, and encourage alertness and productivity". There are many ways to incorporate better lighting into an existing office. Whether it's updating your lighting system with more efficient and eye-friendly LED lighting, or adding natural light by reconfiguring interior walls and windows to let the light spread to more areas of a building. Your architect can help establish your lighting strategy for staff motivation.
You'll need to work with your Architect to determine design features that would attract new talent to the office, whether it is collaborative or quiet spaces with necessary technology and large screens already set up or comfortable spaces for mental health breaks. The key is to create something that staff isn't getting from their home office and would make work easier, either part-time or full-time. A well designed and safe office space should attract staff because of the ease of use, efficiency, comfort, and motivation.
Perhaps, right now, there isn't a need for a full expansion, but an owner has a vision of growth following their remodel. For the medical office remodel that Neil reconfigured, he was able to set the practice up for future plans. Currently, the medical practice anticipates future growth, but isn't ready for additional space, yet. Neil made accommodations to the drawings, so that an addition can easily be completed when the practice decides they are ready.
Use a Design-Builder to make these office changes happen quickly.
Remodeling is typically put off too long by business owners because of the interruption to their staff. Working with a Design-Builder (DB) like Wolgast will help you work through your remodel the quickest way possible, while staying open. With the DB method, your Architect and Contractor are on the same team, sharing information as it's decided and allowing for materials to be ordered and permit applications submitted early in the process. Owners will also have building estimates earlier than traditional Design-Bid-Build methods. Wolgast works with designated office staff to schedule around their commitments and relocate teams as necessary to keep them working full-time. Call us today to find out how we can help you to be more efficient and find solutions to help you reach your building's full potential. Ask for Michael Shepard, 800-WOLGAST.