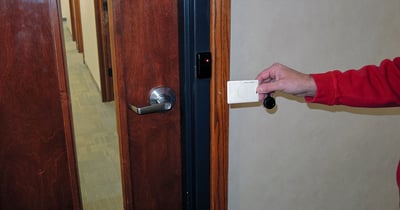 Through the pandemic, business leaders have learned that the importance of making work spaces safer within a commercial, industrial or institutional building and still be functional for workers, students, patients, patrons, clients, or whoever else may cross the threshold. Now, winter is predicted to elevate the Covid-19 spread as people are spending more time indoors sharing air. Even though many Michigan businesses are still closed from the shutdown or limited because they have made it possible for their work force to force work from home, some industries can't have their staff working from home, schools have been going between open and closed as they navigate the infection levels, and healthcare offices are still restricting their service and who can come in the building. As these entities plan for the long haul of whatever amount of time the virus is going to be inflicting us, the keys of working at the "office" are separation, clean air, and making more things "touchless" in the business space – AKA All Things Touchless.
Making All Things Touchless in a work place is a means that could be useful past the pandemic. The less that people have to touch or be near each other, the less likely the spread of germs of any kind can happen. For many that are back to the office, there is most likely a check in process where they open the door, someone interviews about health and takes temperatures, then the arriving staff member makes their way to the elevator or doors to get to their work area. This creates face-to-face interaction and touching door knobs. Installing access control, such as card readers to use with smart phones at an entrance can prevent continual touching of door handles and can record who is entering the building. Also, automating bathroom features throughout the building will reduce the need to touch shared spaces.
Jackson Control, a building security solution company, in Indianapolis, IN conducted a virtual Town Hall Meeting series in April 2020 to discuss ways to make commercial and institutional space safer. They identified that keys to improve the health of a commercial building include UV light filtration, thermal imaging, and occupant tracking. The UV light retrofitted in the duct work sanitizes the air while it circulates taking out infectious virus before it spreads through the air ducts, which is ideal for schools and restaurants. Thermal Imaging and Occupant Tracking is also good for schools where anyone with a fever can be detected within the building and tracked where they have traveled to help narrow down tracing activities, or additionally help monitor the number of people in an area where they can't spread out to socially distanced levels. Occupants who came into the same space where the thermal camera identified an elevated body temperature can be notified to monitor for symptoms, tested, or quarantined to stop an outbreak faster. This can all be done without much interaction or need for additional staff.
Protecting a work force, or adding these safety measures to bring a work force back to work would be more efficient and convince staff, customers, students, delivery people and vendors alike with All Things Touchless. If you need direction on how to install any of these into your building, please contact us for more information - 800-WOLGAST.