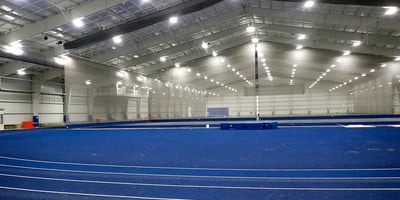 School Districts require a lot of coordination to make their multi-sports programs work seamlessly. For a while now, adding an auxiliary gymnasium onto the school building or a wrestling practice room that can double as a cheerleading practice space, has been the answer to make room for all teams to have needed practice space. Now, School Administrators are discovering that Athletic Fieldhouses, if they have space within their campus, are a better choice because they offer more flexibility for students and their community.
Athletic Fieldhouses are typically large structures that are built using pre-engineered metal buildings (PEMB). Differing types of flooring surfaces are incorporated to create areas for specific sports practices. Parking can be separate from the main school buildings to create easier access for events in some instances. Security access for the Fieldhouse and the school will always be incorporated as well. If a District has room on their existing campus, a Fieldhouse can be impressive and useful to coordinate a lot of internal and community activities.
There are many options that a school system can include in their Athletic Fieldhouse based on the needs of their District and community. Maybe they have implemented a new robotics team and need to create a practice area with the necessary technology. Or perhaps, the community could use a walking track, a place for craft or bazaar sales, pickleball courts, or a local organization wants to host tournaments or camps for a certain sport. in turn, this also can be an economic driver for the community. Plus, just having room for more than one sport to practice simultaneously, providing indoor space in inclement weather for Fall or Spring sports, or keeping the competition gym separate from the practice space can offer solutions for Athletic Directors.
Many Districts use PEMBs because they are quicker to erect. Recently, we assisted a school client to compare the cost of a brick and steel combination structure for their pending Athletic Fieldhouse and found that it was considerably less expensive to use PEMB. There could be some durability tradeoffs, depending on the types of materials used on the interior side of the exterior walls, however, the price savings of a PEMB facility tend to far outweigh those issues. Overall, PEMB is the most cost-effective solution to creating this added space.
Another benefit of a Fieldhouse, the School District can gain income by renting the space to users. Or they can provide a valued service to the community by offering open fitness space. Activities such as craft sales, athletic camps, tournaments, and unlimited other ideas can generate rental income for the District.
Recently, Wolgast has completed a 117,000 s.f. PEMB for a K-12 School District in Michigan. It has a 300 M indoor track; artificial turf; fields of play for football, soccer, track, cross country, baseball and softball; locker rooms; concessions; and fitness center. They host indoor track meets and softball games in January, athletic clinics, community holiday events, and more.
If you would like more information regarding this particular project, or our services, please call Joe Powers, School Facility Coordinator, for more information. 989-942-6551 or jpowers@wolgast.com.