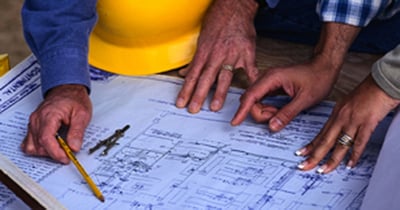 We hear it quite often from business owners, once they decide to build a building, they needed it yesterday. We understand that once the need for the new building is decided how important it is to get the owner moved in quickly.
While the architectural phase can sometimes take months, it can often be shortened when the owner stays in contact with the architect and makes decisions quickly. We recognize that most of the decisions are big decisions because they aren't easily changeable once they're decided. Trusting your architect and continually discussing what you want from the building will help this process flow smoothly.
An experienced contractor will lead you through your project faster with extensive planning and scheduling prior to construction. During the planning stage, permits and long lead items can be ordered so they will arrive prior to their scheduled need. Nothing slows down a project more than waiting for permits because nothing can happen on site until they are obtained. Occasionally, an owner may want a specific aesthetic item to incorporate into the building, so it's best if they coordinate with the contractor to determine when those items need to be available to be installed most efficiently. We had an owner who wanted a specific chandelier installed in their meeting room, but it was a long lead item requiring nine months for delivery. In that case, we came back after the fact to install it.
It also saves time on a project when the contractor is on the same team as the architect, like through the Design/Build (D/B) construction delivery method. The D/B team can create a design that uses components which lend themselves to an expedited schedule. Additionally, this method allows for open communication between the contractor and the architect so that a project can start even before the plans are complete. In many cases, once the plans are complete site work and foundations can be constructed at the same time saving on the schedule. In other instances, site work can start even before the plans are complete because the architect can provide the information on the layout of the building on the site even if he's still adjusting the finishing touches of the design.
Another means for saving time is prepping a staging area to receive materials when they arrive. As you can imagine, there are some large materials and supplies that are needed to construct a building, so having to find man power to handle where to place these large items each time they're delivered wouldn't be the most efficient use of staff time. Therefore, Wolgast creates this staging area as one of their first priorities of each project.
Wolgast has built a reputation for being one of the speediest contractors in the state. We continually implement systems that speed up our design and construction process and we will put the same emphasis on completing your project quickly, too.