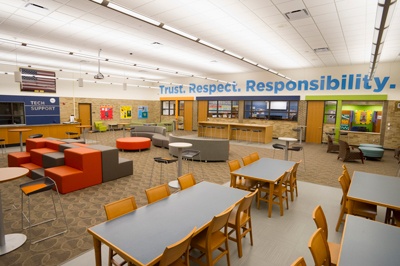 The New Tech Network is designed to target disinterested students, while still reaching those who are already college bound. And it is working because their report, "2020 Impact Report", shows that New Tech High School students are 10% more likely to go onto college compared to the national average. And added 14 new schools to their network in 2020.
The New Tech Curriculum is fairly new as it only started in the mid 90's, but it already has proven results. On their website, www.newtechnetwork.org, they state, "NTN schools consistently outperform national comparison groups on measures of higher order thinking skills, high school graduation rates and college enrollment rates". Each student is provided with a computer and the necessary tools to complete "project-based learning" as a group. In this type of environment, students learn open collaboration and problem solving skills. The program goal is "to enable students to gain the knowledge and skills they need to succeed in life, college and the careers of tomorrow". For 2020, they have had to adapt quickly and create meaningful distance-learning for students.

At the time of publishing this blog, fourteen schools in Michigan have incorporated the New Tech curriculum. Wolgast has gained experience with constructing New Tech High Schools over the past few years. We have provided Construction Management services for remodeling Meridian New Tech High School in Sanford, Michigan. They became one of the earliest schools in Michigan to adopt the New Tech High School curriculum for their freshman class in 2010. Then in 2016, they hired Wolgast again to complete the necessary renovations to the existing high school to allow for the extensive wiring, networking and group spaces required for the technically focused program. The curriculum stayed with those that started it as freshmen in 2010 and then extended to all following classes. Since 2010, we have also completed more renovations to make room for the addition of students and their space and technological needs, including updates to science labs and media centers. Meridian is focused on getting their students "Career Ready. College Bound" according to their website. They have also converted their Junior High and Elementary schools into the New Tech Network.
The difference with remodeling or constructing a New Tech school stems from each space needing to be adaptable for multiple group work stations for a variety of situations. A higher level of coordination is the key for the Construction Manager to oversee a smooth project and account for the necessary flexibility plus technical and data accommodations.
If you're considering adopting this curriculum for your school, you should contact the New Tech Network; however, if you need a Construction Manager to complete the renovation to your school, call Wolgast Corporation who can apply their best practices to your project.