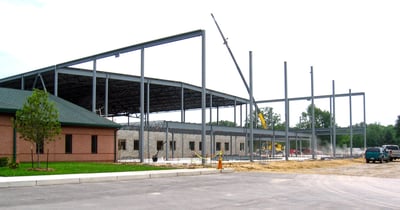 We have had all kinds of business owners from varying professions ask us about using a pre-engineered metal building when they're fact finding about new construction for their business. We tell them a general rule of thumb to consider is that metal buildings are best for businesses that want an industrial look, or have a big enough budget to dress up a pre-engineered building with brick or EIFS (for example) to mask the industrial façade.
It's certainly a viable and economical option when a business owner is looking for new construction. However, the expense of masking the industrial look can be cost prohibitive and could actually make it more economical to choose building a stick-built building instead. To see examples of how a pre-engineered metal building can be "dressed up" visit Kirby Building Systems website. Additionally, the larger the building, the better the economies of scale become for metal buildings. The price per square foot gets more attractive the bigger the building vs. stick-built construction. On the same note, the smaller the building, the bigger the square foot price will be, which can make stick-built construction the more economical option.

The time you have to complete construction can also play a factor on your choice between metal and stick-built construction. Both methods start with an architect designing the building and getting through approvals. Once the contractor has a signed contract with the owner, stick-building construction can start, however, when using a pre-engineered metal building this is the point where it gets ordered from the manufacturer. From there, it takes time for the manufacturer to complete their engineering and planning for the support of the structure per your design. Then they put it into production. Your contractor can begin site work and foundations prior to the arrival of the metal panels, but that could take 8-12 weeks for most jobs (simple jobs can take less time).
A final consideration is future expansion. If your site allows it and you have plans for expanding your building in a few years when you've doubled your business or another reason, then starting with a smaller metal building can provide cost savings during an expansion. If you design it with the intention of adding space later, it should be easier and more economical to do so with a metal building compared to a stick-built building.
In summary, if you're looking to build a large building and don't mind that it looks like an industrial building (such as operations for warehousing, manufacturing and some retail), a pre-engineered metal building will be your most economical choice. For those who need a smaller building, less than 10,000 s.f. or so (doctors, dentists, restaurant owners, service providers), who'd rather not have an industrial look, or don't have the budget to mask an industrial look, then a pre-engineered metal building most likely isn't your best economical choice.
Either way, Wolgast is skilled in designing and erecting pre-engineered metal buildings as much as we are in designing and constructing stick-built buildings, so please contact us with your questions about what type of construction will work best for you. 800-965-4278.