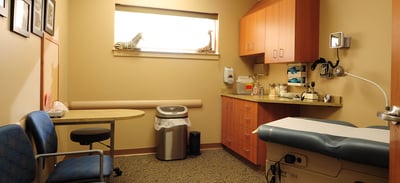 In this blog, I'll explore how the Design-Build method of construction is well suited to medical doctors, more so than general construction. To start, the D-B method was really created to suit the needs of busy business owners, which includes doctors, because it requires less attention from an owner and that owner can set their involvement as much or little as they see fit. Some customers like to be more engaged in the process than others and we are happy to accommodate each client's unique desires.
The basic difference of D/B over general construction, is the relationship between the architect and builder. In this project delivery, they are on the same team. A doctor only needs to work with one entity to design and then build his or her office. Also in this scenario, the doctor is protected from any discrepancies from the architect's drawings to contractor's application. With D/B, the contractor and architect are consulting on budget, application and material quality throughout design, so when construction starts there are very little interruptions or change orders. Should there be a discrepancy, the design-builder will work it out without involving the owner unnecessarily. This protection is valued by doctors who oftentimes aren't as familiar with construction, nor have the time to deal with these issues on site. All of these reasons are exactly why Design-Build was created as an alternative to general construction.
Additionally, medical offices are not simple buildings to design or build. It takes a specialized architect and builder that each knows the regulations for HIPAA, med gases, ADA and Certificate of Need specifications to design your building correctly. Also, an architect with knowledge of patient flow helps with the design for efficient productivity of your staff members and privacy of your patients. On the same note, a builder who understands and is familiar with medical office construction will complete your project with fewer delays. At Wolgast, we know how to prepare for specialized equipment and how to plan for your workloads on an occupied site. Scheduling for make shift, yet private, exam rooms during construction will allow you to keep seeing patients without interruption when renovating or adding on space.
The final feature of the D/B delivery method is that it allows the design-builder to be the advocate for customers who aren't familiar with construction. We use our expertise, connections and resources to help our clients get the best value for materials and applications of those materials. We design and manage the construction of your building as if it were our own and demand excellent performance from our subcontractors.
A design-builder will become your representative to handle your building design through construction. You'll be able to keep your daily schedule the same while your building is built and Wolgast will apply our medical expertise to deliver your building on time, by regulation and within budget.