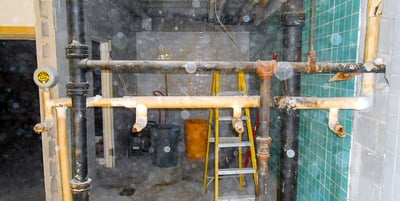 When do existing environmental hazards effect building ownership most?
When your building was built prior to 1980 and you have people working, cleaning or providing maintenance within the building
When you plan to remodel or put on an addition to a building of any age
When you buy or sell the building
For a building owner, sometimes the best deal is a building constructed before 1980 that can be remodeled for your use. Or better yet, one that old that doesn't need to be remodeled. One thing to know before purchasing is that buildings built 40 years or more ago are highly likely to have had asbestos materials or lead paint used within them.
Michigan OSHA (MIOSHA) requires owners of "All public commercial buildings constructed prior to 1980 are required to have a [PQL or NESHAP] asbestos survey on hand," says authority John Rehkopf, President of Northern Analytical Services, LLC. This is any time as an owner, even if there are no plans for demolition or remodel. A PQL survey stands for Presence, Quantity and Locations of Asbestos Containing Materials (ACMs), which simply reviews the materials and their make-up. A NESHAP survey (National Emissions Standards for Hazardous Air Pollutants) is much more intrusive or destructive with samples taken, according to Rehkopf. The NESHAP survey would also satisfy the requirement of a survey, but it is more expensive than a PQL.
It's good to know, prior to purchasing a building, that previous owners may have a report available and new owners should request it to save money. Also, knowing the existence of asbestos materials leads to a designated person needing to be 2-hour Asbestos Certified annually through the state, so if while cleaning, maintaining, or even restoring after flood/fire/storm damage there is someone onsite who knows the protocol to protect everyone else from the nasty exposed fibers. The fibers are not harmful while the material is intact, but once broken apart and floating through the air, they are known to cause some incurable diseases including asbestosis, mesothelioma, and lung cancer. A business owner could save themselves fines with this information.
Alternatively, lead is not regulated the same as asbestos in commercial structures in Michigan. However, if you own a childcare facility or pre-school built before 1978, the EPA requires a survey to determine evidence of lead paint in the building. If paint starts to chip, the dust can cause lead poisoning for occupants after exposure. Lead is evident in most paint, even those in stores today, but quantities were higher in those prior to 1978. Your competent contractor will treat paint as if there is lead present during demolition or a remodel even without a survey. A building owner should inquire if they have completed Lead Awareness Training before hiring them.
Prior to any demolition or remodeling work to your building regardless of its age, you will need to hire a professional to have a NESHAP survey conducted. Rehkopf says, "This is a comprehensive asbestos survey that includes testing of each suspect material that will be impacted by the renovation work regardless of the age of construction." It is required by the contractor to have these reports prior to any construction activity.
Wolgast's on-site professionals are Asbestos and Lead Awareness trained, so you can feel safe that we will handle your remodel with professionalism from "Demo Day" to completion.