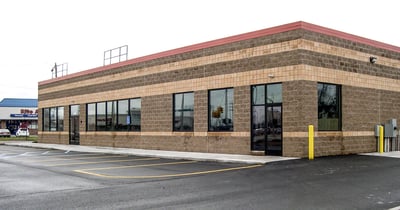 Retail space is becoming attractive to non-retailers as more of it becomes available. Likely, Business Owners see a build-out as a quick, easy, low cost way to enter or expand in a market due to space already being established with a structure, vast parking, some foot traffic, and necessary amenities. Just a little remodel and they can be open for business!
While much of the above is true in theory, there are cost savings associated with having a professional team with background knowledge to lower leasing and, in turn, operating costs. This "leasing" team of Design/Builder, CPA, and Real Estate Attorney can help an owner negotiate their lease, get regulatory approvals quicker, a build-out estimate, and a distinguishing design for their storefront so it's easily identifiable among a sea of retail shops, "medtail" offices (redi-med, chiropractic, veterinary, or other health services), restaurants, recreational businesses, salons, and whatever other operation may be nearby.
Mall and shopping center managers are seeking retailers, restaurants, mom and pop shops, and non-traditional businesses to fill their open spaces. As a lessee, the business owner will have to pay rent as agreed upon in a lease, plus Common Area Maintenance (CAM) fees, possibly utilities and/or taxes, and build-out costs. A professional leasing team can set up a business owner to have the best lease option, plan for their accounting, and designed store in less amount of time. Additionally, there are nuances to getting an allowance for build-out costs that factor into your lease amount. Also, negotiating how the taxes and utilities are covered could affect your monthly rent, too. Furthermore, it's a good idea to check out the HVAC equipment that is present to prepare an owner for what heating and cooling costs may be.
Speaking on behalf of the Design/Builder, the art of the build-out is to identify issues with the space, make sure the utilities are (or will be) where you need them, architectural plans are created to meet municipal/code requirements, and the design helps with branding so a business can be easily found and attractive to customers.
Wolgast Corporation, has completed retail build-outs for mall, shopping center, and stand-alone customers throughout Michigan. We can help a business owner to get their design, utility access situated, and build-out completed to save on time and create a professional looking operation, so they can start making sales, seeing patients, or serving clients as efficiently as possible. Our resources include technology, utilities, engineering, design, and construction.