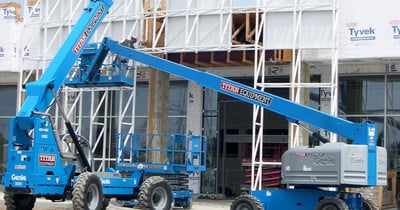 Commercial Renovation to Stay Put

Whether you really like your building the way that it is, your location is part of your long-term plan, or financially speaking a new building is out of the question, these are all good reasons to stay where you are. However, I'd like to share with you a few of the best reasons to consider renovating your current facility.
1) Improve traffic to your business – we have seen it time and again that renovating a commercial space peaks the interest of people in your community. It also provides additional promotional opportunities because having a renovated space to talk about creates a steady and interesting social media topic. Whether you're a doctor, restaurant, or a school, you consistently want to attract new people to your space, right? Sharing your remodel should help gain and/or keep followers to communicate the benefits of your services.
2) Make your current operations more efficient – a company's business and flow of work obviously changes over time. A renovation or redesign can help improve efficiency and provide the right amount of space for staff to complete their tasks. Whether you need more or repurposed space, a redesign should be well thought out to improve your operations. Through a needs analysis meeting, your architect will be able to determine the updated spatial needs of your organization.
3) Accommodate the addition of new equipment – you know that piece of equipment that will allow you to do more with less effort? You've been thinking about it for a while. Making room for it is the first step to improve your bottom line.
4) Incorporate new energy efficient changes or revamp the element you've been repairing to save on costs – the green market is expanding every day and continues to offer products to make your space more energy efficient. An update of your heating/cooling system, electrical/lighting system, windows and/or insulation could save you a lot of money on energy costs each year. Additionally, if you have a system or a part of your building envelope that leaks, a remodel can eliminate the need for frequent repairs and maintenance.

5) Can aid in attracting or maintaining staffing candidates – updating work areas can help boost employee moral, increase productivity through better lighting or smoother flow of work, and it can also help in gaining employees that like their work environment because it's comfortable, modern, and their future needs have been considered.

In summary, it is about your business being relevant, efficient, and interesting. If you already have all those things going for you, you're all set. If you need a construction consultant to help you start planning, call Michael Shepard at 800-WOLGAST or 989-790-9120.