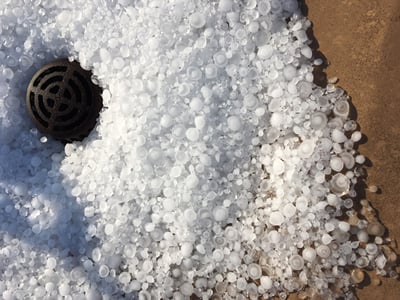 What do a pea, a quarter, a mothball, and a golf ball have in common? You probably guessed it, they are all used to describe sizes of hail. The bigger the diameter of hail, the bigger the damage it causes, especially for School Districts. You may wonder why a school would be worse off than most other structures, but when you consider that most Districts have a campus with multiple buildings in the same area, the cost to restore after a hail storm can add up quickly.
Additionally, hail can be an isolated incident that occurs primarily during the months of May through September, mostly when school isn't in session. Damage to a roof has to be assessed quickly and protection applied to prevent rain waters leaking into a building and damaging more of the structure than just the roof. Plus, if it isn't known that hail fell upon a school roof with no one there in the summer, the winter freeze and spring rains can make the damage significantly worse and more difficult from an insurance stand point.
When our school client called us in April of 2020, during the complete pandemic shutdown of schools in Michigan, to notify us that their roof had been impacted by hail, we met with them that same day to see what kind of damage they had. The golf ball sized hail had torn holes in 70% of the High School's roof membrane. They were fortunate that only one of their school structures had been damaged.
After the adjuster of their insurance company, SETSEG, had completed their assessment of the damage, we got to work. We provided restoration services and managed the replacement of the damaged area. We assisted the School District and SETSEG to coordinate the installation of a liquid coating to seal the holes as temporary protection until the roof membrane could be replaced. The roof replacement was complete prior to the start of the school year and also involved drywall repair, acoustical ceiling replacement, installing lights and speakers, carpet cleaning and deodorizing, general cleaning and painting the ceiling.
Wolgast is a professional Construction Manager for schools throughout Michigan. We have decades of experience and know how to make school structures functional for students and teachers whether we are building new, remodeling, expanding, or restoring after a storm. In the instance of restoration, we will work with your insurance company to return your building to a pre-loss condition efficiently and correctly. Please contact us if you have building needs for your District – 800-WOLGAST.