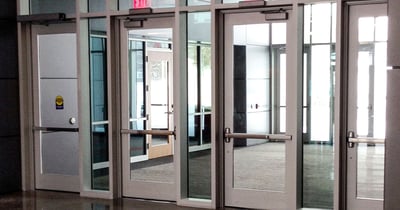 School Districts are facing pressure to incorporate technology into their curriculum to compete with other institutions who have already adopted 21st Century and New Tech programs. However, miles of wiring, hardware, software, white boards, wireless projectors and hand held devices aren't the only technological concerns of modern schools.
Building efficiency, automation and security also play a role in technological updates. With the additional cost of keeping up with continual software updates and hardware maintenance, saving money through energy efficiency and Mechanical, Electrical, Plumbing (M/E/P) monitoring can help off-set these expenses. Through building automation, all of your systems can communicate with each other and through computer monitoring you can scrutinize that your HVAC systems run more efficiently and manage energy usage to reduce costs. Also, installing LED lighting will save money and improve the student's learning environment. Ensuring that all of these systems work together and don't have to be retroactively forced to communicate takes planning and design prior to installation. Far too many times this is an afterthought that costs more money, but if done correctly it can save money on the project. Furthermore, when your systems work together through building automation, they become more efficient, building occupants' comfort can be better controlled and maintenance services moderated. Additionally, your maintenance staff will be notified immediately of system issues, so that incidences can be managed before they become a costly problem.
Probably a top priority for all schools has become their building security to make their campus safe and secure for teachers and students. We recently worked with a school to improve their security measures. Like most, they wanted, "full, unfettered control of the door" without making it feel like a prison for students. School Districts more commonly face issues with custody cases or split families and even angry boyfriends who enter the building to get in contact or even remove a student. These are the more common situations that Districts have faced in the past and are trying to control.
Most of the security updates that we incorporate include a secure entry area through double doors or office passageway, but it also needs timed door locks, cameras, and intercom systems. All these updates require hard wiring and the ability to communicate with the centralized monitoring system (same as your HVAC system).
Schools can incorporate modern technology changes that will save them money, improve the indoor environment, and provide reliable control of who is in their building by teaming with an Architect and Construction Manager (CM) who are experienced with pre-planning your systems so they work together and who have a better than average school bond passage success rate, like CM, Wolgast Corporation. Call us to discuss your building goals at 800-WOLGAST.