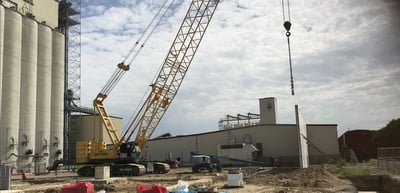 Precast Concrete Wall Panel Options for Construction Efficiency
Construction efficiency is a critical factor that can significantly impact timelines and overall project success. The combination of precast concrete wall panels and structural steel and insulation offers a powerful solution to achieve efficiency when needed in construction projects. Wall panel system construction is gaining popularity due to its labor and time savings to erect a building envelope. Precast concrete walls with conventional steel roof framing are one option to use on a large commercial building. Made of a variety of concrete materials, walls are poured in an indoor, controlled environment to the specs of your building's needs, as specified by your Architect or Engineer (A/E). Each 10,000+ lb. (approximate) panel and other precast parts are then transported on a large truck bed to your building's site to be put in place by a crane, assembled by a crew that welds/connects them to structural steel and then caulks the gaps to create an energy efficient, structurally sound, quickly installed building envelope ready for your interior buildout.
A few years ago, one could order their panels and receive them in a few weeks' or months' time, making this a very quick turnaround option. As popularity has grown and labor shortage gaps have occurred, the current wait time has expanded to ~6 months for panels to be produced. The actual time to precast or pour the walls is only a few days depending on the size and quantity of panels. To overcome the lengthy "line-wait" we have worked with manufacturers to get in the queue before a building's plans are finalized.
Precast concrete panels with conventional structural steel roof framing systems are not the least expensive method of construction, but they do have other efficiency benefits. Time to erect is very quick even among the current labor shortage, the buildings are well insulated for temperature control, maintenance costs and need for attention are very low, has a low carbon footprint, and naturally provides sound control. Likely, all important factors to business owners.
There are economic choices/selections that can adjust the cost of your panels. For instance, there are concrete types that require less work or more work to precast correctly, you can choose more or less decorative enhancements of color/texture/patterns, and simplifying a design so fewer panels are needed can adjust the production cost. Work with your A/E to make sure that cost-saving choices are implemented if that is a deciding factor for your business.
Wolgast Corporation has been the contractor for several large buildings that have used precast concrete panels with conventional structural steel roof framing. Namely, the Saginaw 10 movie theater in Saginaw, MI, FP Horak in Bay City, MI, and most recently, The Cooperative Elevator addition in Pigeon, MI. Each company chose this method so they could be in business faster and/or avoid pending winter conditions. Additionally, the Cooperative Elevator appreciated how much easier the concrete would be to clean rather than steel for their dry bean operation, plus they wouldn't need to worry about rusting. Other industries that are also well suited for precast concrete panel buildings include professional offices, schools, retail, manufacturing, government buildings, stadiums, multi-family housing and data centers to name a few.
Wolgast can design and/or build your precast panel system construction. Please call us to discuss if this is the right solution for your building.