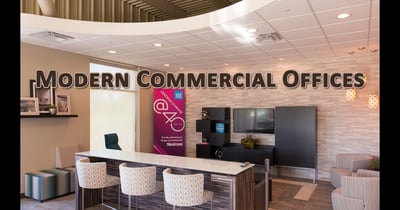 Easy Ways to Update Your Look
Who doesn't want to be known for always having the most modern looking office, comfortable staffers, or the ability to attract customers because their place of business is so fresh and enticing? The problem, we understand, it's cost prohibitive and not a great investment to complete a remodel every year to keep up with new trends. However, there are some classic and cost effective changes that can help set you up well for the future.
When I did an online image search for "modern office design", I saw neutral color schemes of black, grey, white, or brown with a pop of accent color, minimalism, ergonomic furniture, biophilic décor, textured walls, glass dividers, natural light, and acoustic ceiling systems. What is missing are fluorescent lighting, storage, privacy, and ping pong tables. Below we discuss some of the more economical options for an impactful partial remodel.
Lighting
Changing lighting can save you money in the long run, either by completely converting to LED lights, if you haven't already, or adding more natural light throughout the office. With either, you may lower your energy costs over time to help offset the cost. Natural light can be added by installing glass dividers in certain areas, so exterior window light can filter throughout the building, by adding skylights, or even installing bigger windows. Natural light can help boost staff morale and in turn productivity. Also popular, but maybe more trendy, is to add accent or ambient lights near trim, shelves, or any other element that you'd like to highlight. It looks very nice, but could be excluded from a conservative budget. Additionally, automated design controls are energy savers that can be set to dim lights when a room has natural light and shut them off if there is no motion in the space.
Noise/Acoustical Features
Many businesses have found out that the coveted open floor trend of previous years may not be helpful for concentration, privacy, meetings, or taking phone calls the way the noise travels. There have been reports of less productivity or collaboration as was intended. If you currently have an open floorplan with this problem, or are interested in changing your floorplan to this modern looking aesthetic, acoustical designers have found solutions to install acoustic ceiling systems or "clouds" and wall panels that look attractive and also keep the noise down. Plus the availability of noise canceling head phones can help staff members to focus on what they are doing in any floorplan. This solution may be more cost effective than adding walls or buying cubicle furniture. If you still want to change to walled offices, Wolgast can help!
Materials
Paint is a very economical change to update an office. Textured walls could also be economical using Wolgast's very skilled and talented millworkers. Ergonomic furniture looks nice and would likely be pleasing to your staff. And finally, there are some beautiful examples online of biophilic features in offices (bringing the outside inside) to match a business' environmental policy as an option if it is in the budget.
Whatever you need done (including more storage and privacy measures), our Design-Build Process is available to help you with architectural plans and provide necessary remodeling services. Call us today!
800-WOLGAST | www.wolgast.com