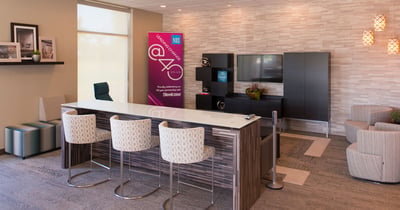 What Ideas Will Work for You?
Appearance is one of the triggers that leads to remodeling, but isn't the only good reason to remodel. Other reasons like efficiency, reorganizing unused space, right-sizing, and new technology can make a big difference in attracting or retaining talent, saving money and improving productivity. Furthermore, modern designs that are created with goals of safety, appearance, efficiency, and increased focus or productivity can help you to make your space more useful for staff and enticing to clients.
I did an image search on Google for "Modern Office Design" and what I saw was a lot of glass walls, greys/brown/white shades combined with bright accent colors, short cubicles or no cubicles, wood floors, slat wood paneling, high ceilings, natural light, recreational areas, conference rooms and white boards. What was missing was fluorescent lighting, storage, and surprisingly, privacy.
Open floorplans with no offices and high ceilings have become popular for some businesses, especially for those in urban areas where real estate is costly and space is limited. More staff members can be fitted with a desk when there are no walls involved, but the productivity results are mixed. If you've been wondering, any operation that relies on phone calls or focus for creativity (to name two) doesn't work well with open floorplans or high ceilings. Also, the original goal of collaboration has fallen short among those using the open concept due to the introduction of texting and private messaging via social media.1 Instead of collaboration, employees are seeking more privacy and turning to messaging instead of open collaboration, according to researchers in "New Harvard Study: Your Open-Plan Office is Making Your Team Less Collaborative". They were able to determine that "Face-to-Face" collaboration decreased by 70% while email and messaging formats increased1.
So, what can you do to address the current needs of your future work force and clients? Whether you plan to have less employees or expand your staff, right-sizing your space to make it more comfortable or to accommodate new equipment can lead to increased productivity as better work flows are streamlined. Extra space in your building can be repurposed to be a quiet area away from phones and computers, or additional meeting space for focused collaboration. Additionally, this area can be automated so that lighting and heat controls are adjusted to actual use and to save money on energy costs.
In fact, incorporating the Internet of Things (IoT), or building automation of systems is good to incorporate during an office remodel. Your office temperature, access control, lighting, and other systems can be controlled from your desktop, laptop, or even smartphone. Incorporating natural light has also proven to improve morale and cut costs on lighting bills.
We know that the bottom-line is how much more revenue will a remodel bring to the business, or the return on investment. We can't tell you exactly how much, but considerations to make include the impact on attracting or retaining talent, the energy cost savings, increased productivity through well thought redesign based on work flows and repurposing unused space, peace of mind from access control, and attracting clients or prospects who are interested in seeing your newly remodeled space.
Wolgast can design your new floorplan and oversee the construction of your remodel, or new build if you prefer. We will be the single-source of your project applying our building expertise, while you focus on the operation of your business.
1https://www.inc.com/jessica-stillman/new-harvard-study-you-open-plan-office-is-making-your-team-less-collaborative.html