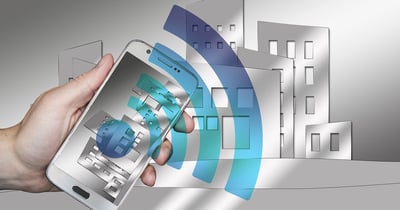 School Districts waste energy when building systems run while school isn't in session, and face additional security threats, too. The good news is that schools are estimated to be able to save considerable energy costs by adding building system controls and sensors for real-time control. By automating school buildings with sensors and smart controls, the EPA says "schools and school districts can lower their operating costs by up to 30%. Existing schools can save 25% of operating costs by implementing some basic efficiency measures, occupant education, and engagement programs."1 Additionally, installing integrating security systems to ensure all doors are locked and surveillance or movement sensors are operating after hours provides peace of mind when no one is in the building.
Building automation can be integrated into new and existing buildings to control all systems from your laptop or a smartphone. This is known as the Internet of Things (IoT), and allows for continual monitoring and alerts to be sent to facility managers if there's a problem. HVAC, lighting, CO2, water pressure, and access can all be monitored and adjusted or programmed as the usage of the building changes at varying times of day.
Besides the cost saving benefits of being automated and having the controls at your fingertips, per say, is that when schools have a Snow Day, those in charge of the building can press a "Snow Day" button on their phone or laptop and go into a mode that will lessen lighting, heat and even lock the access doors within the building from the comfort of their home, or where ever they are. Additionally, sensors can notify you if there's movement within the building for safety reasons.
Commercial Contractor, Wolgast Corporation, is able to work with School Districts throughout Michigan, where Snow Days and Freezing Days have been calling off school plenty the past few years. This alone could save significantly on Schools' energy costs. Additionally, we are Consumers Energy and DTE Trade Allies, helping School Districts with electric and gas efficiency. Consumers Energy offers incentives for those who reduce their usage and our Project Managers help their school clients to acquire those incentives through proper paper work.
Honeywell, an Energy Management Company, works with businesses and schools to measure their energy usage, configure alarms and notifications based on preset thresholds, incorporate the IoT, and provide access control and surveillance (among many other things). In their news article, "Back to School : How School Buildings Can Positively Impact Student Achievement", Honeywell features their work helping "schools enable more comfortable and productive environment through innovative energy solutions, which have resulted in approximately $270 Million of guaranteed savings for K-12 Schools in the U.S. and Canada since 2013," a three year duration at the time of the article.2 Through their technology, Wolgast can integrate the functions necessary to control a building's systems in real-time, and even create the "Snow Day" setting for your facility manager to easily maintain efficiency and safety when there's no one in the building. As well as stay on top of the controls year round from their computer.
Please contact us to find out more information about this opportunity – 800-WOLGAST.
1 United States Environmental Protection Agency. "Appendix A: Model Program for the State School Environmental Health Guidelines". https://www.epa.gov/schools/appendix-model-program-state-school-environmental-health-guidelines
2 Timmerman, Jessie. "Back to School: How School Buildings Can Positively Impact Student Achievement." Honeywell, 29 Aug. 2016, https://www.honeywell.com/en-us/newsroom/news/2016/08/back-to-school-how-school-buildings-can-positively-impact-student-achievement