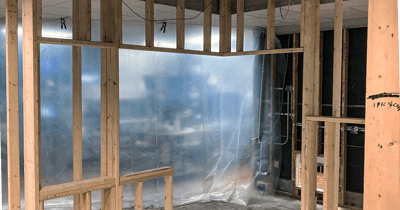 A restaurant owner may need to update their restaurant because it's no longer functioning well, it's required by their franchisor, or they are just seeking an updated look. Some owners believe that they have to shut down for a length of time and go without income, risking their staff leaving and being burdened by ongoing bills.
There are several strategies that can be implemented to keep your restaurant serving customers while remodeling your dining room, bathrooms, checkout area, and even your kitchen. Some popular strategies include:
Set up work in phases so all functions aren't shut down at once – work in one area of the restaurant while using other existing areas to compensate for the portion that is shutdown
Set up work-zones with temporary walls and designated work areas to help maintain cleanliness, which is a top priority of all restaurants – temporary wall barriers, visqueen wrapping, and working paths will allow kitchen functions to keep operating during a remodel by blocking dust and other debris caused by construction activities
Schedule construction to happen after hours or during slower traffic times – work with your contractor to identify when slower times are or when the kitchen operation is closed, so remodeling activity can be scheduled during that time. It's important to note that due to the additional resources it takes to do this work late at night, there is a premium cost added to the project.
Implement pick-up areas for take-out, whether it is an alternative pick-up window at your drive thru, personal delivery by your staff, a temporary portal within your store, etc.
Rely on staff for alternatives that will work best – those who regularly operate within the space can usually make the best recommendations for keeping operations going
We have remodeled for many restaurant brands throughout Michigan while they stayed open. Even their kitchens. I asked one of our Restaurant Project Managers how they are able to keep a kitchen open during construction. He told me it is a combination of the strategies listed above. By setting up temporary walls and working after hours, the construction team can get a lot of work done and have cooking areas pristine for the next day's operations. The key is planning ahead of time with restaurant staff to find the best solution.
There are times when a complete gut of a kitchen requires it to be shut down, but work is scheduled to get crews in and out as soon as possible. Materials and equipment will need to be ordered way ahead of time, so they are readily available during the remodel, and so there is no downtime holding up the progress. Wolgast has broken records for completing our restaurant work quickly by following our systems to bring it all together seamlessly.
Another strategy to consider may be renting ghost kitchen space or a temporary food truck to keep serving your food and to maintain staff. Wolgast will help you with planning to make sure all your needs are met.