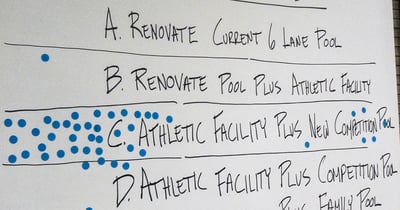 Preparing for a Bond Election is critical to school construction projects because if the election isn't successful, there is nothing to construct. Therefore, Wolgast has developed Pre-Bond Election Services to set up School Districts for building success. While we haven't won them all on the first try, we have maintained a 92% success rate for schools we've helped over the past 5 years.
Our pre-bond election services are comprehensive and can be tailored to what the District needs in an a la carte fashion. Outlined below are the full options for this first phase of school construction. Led by our staff of School Facility Experts, they help guide you through the pre-bond process. Each Expert is a retired School Superintendent who has successfully carried out bond construction projects of their own and they have a lot of knowledge to contribute to the success of each project.
Districts have the option to start with a facility study conducted by our Construction Management experts in conjunction with the Team Architect to identify the biggest needs in the District's school buildings. This evaluation provides technical data to back up the request you may be making from constituents. A report of the findings will be presented to the board with the level of updates needed for building systems, infrastructure, materials, or spaces.
From there, we can help organize community forums to discuss the study's findings or assist in getting public input on what would be supported in an election. Once general consensus of the Board is identified, our School Facility Experts present funding options available, meaning qualified bond application, unqualified bond application, sinking fund, etc. Wolgast then provides cost estimates for construction and a realistic milestone schedule. These are used to fill in a bond treasury application if needed for funding.
Next, the School Facility Experts can help organize a bond campaign committee, meet with the group to guide them in the right direction, and provide steps that have been successful in the past. One of which is communicating with supporters. Wolgast offers graphic design services to create printed materials and also underwrites the cost to print them. Our marketing team takes the information that you deem useful and important to design and produce either brochures, postcards or posters for your communication use. The focus of these materials is to get your supporters to the polls.
Whichever level of services you need, everything listed above is provided free of charge. We consider it our role to help make the project happen, so we can apply our knowledge, skill, and expertise for clients to improve their schools.