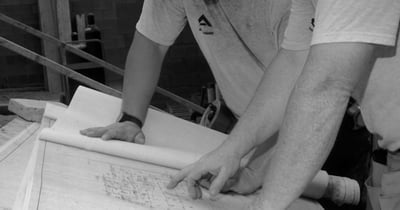 Design-Build Construction is a project delivery method in which a building owner forges a single contract with one entity for architectural/engineering design services and construction services. Known as the Design-Builder, the entity becomes the single-source that is responsible for designing, hiring subcontractors, coordinating the schedule and building the structure on the client's behalf. Wolgast offers a phased approach to identifying a client's building scope, budget, schedule, final design, construction and warranty.
Phases Described
In Phase I – Preliminary Design, our architect meets with you to conduct a Needs Analysis and then crafts a preliminary building design to suit your needs, layout, and specifications. At this time, he or she also does regulatory checks to make sure you can build what you want on your site. Following this, your estimator will coordinate with trade contractors to set a budgetary number that you can take to your financial institution for approval. The benefit of getting this early pricing is knowing if your building design will fit within your budget and, if so, starting the financing process sooner than traditional construction.
Moving to Phase II – Detailed Design, the architect takes the preliminary information from Phase I to create final construction and permit-ready design documents including engineering plans (i.e. civil, structural, mechanical, and engineering) for your review. The process includes several review opportunities between the client and Architect. Also, as the plans develop, the Estimator is acquiring bid coverage with trade contractors. He or she is reaching out to our vast resources of trade professionals to obtain competitive bids. This way, we will have all the lowest, qualified prices in our budget, a huge benefit of this delivery process. As the client signs off on the design (or portions of the design) and the budget, which should be expected due to already known Phase I estimating, the project will transfer from Design to Construction. During this transfer, a construction schedule, permits, material ordering, and sub contracts are secured and site work or demo that is approved can start. This is why Design-Build is referred to be the Fast-Track to Construction, which is another benefit to this delivery method (see our White Paper on Fast-Track to Construction).
During Phase III – Construction, your Project Manager and Project Supervisor will mobilize equipment and monitor onsite activity. The Project Supervisor will be onsite 100% of the time. He checks to make sure that appropriate materials are used and applied with accuracy and quality, safety precautions are being followed, and that the project is staying on schedule. The Project Manager monitors the progress and budget and is the liaison between client, architect, and the site.
In Phase IV – Warranty, once construction is complete, your Design-Build Construction Department will be available for another year to help with any warranty issues that could arise as you settle into your new building.
In Conclusion, when it comes to Design-Build The Wolgast Way, our systemized approach directs us to provide the most efficient and high-quality building for our clients. Over the past 75 years, Wolgast has been a highly progressive and comprehensive construction provider all throughout Michigan. Adding Wolgast as your Design-Builder and Construction Department will allow you to focus on your business – what you do best, while we focus on building - what we do best!