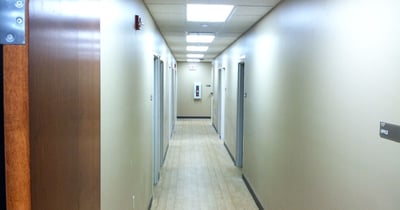 Office Remodel (Part II)
As a business owner or manager, you want to make your working space comfortable, attractive and efficient for your work force. Currently popular in office settings is open daylighting, LED lamps, replaceable carpet squares and work stations with standing options. If you don't own your building, you may feel restricted to make these changes until your ownership status changes, but it's more likely that your landlord will be willing to work with you to make updates and keep you as a tenant.
Lease Hold Improvements
Lease language can be long, tedious, and yet full of important details. Depending on how long you've been in your building, it's a good idea to refresh yourself on your remodeling stipulations. There are commonly tenant improvement allowances available, or alternatively, savings on rent for completing updates to your office or shop. If there aren't already those permissions included, then lease hold improvements can be negotiated when you renew your lease.
Typically, the tenant creates a list of the changes they'd like to make and turns that list over to the landlord for review. The items that are approved and agreed upon are then put into a work plan for contractors to establish a cost. Typically, landlords prefer to work with their approved subcontractors in order to match the aesthetic already existing in the building. From there, the landlord and tenant enter into a construction agreement with the allowance and cost pre-determined. Additionally, there is a clause presented for fixtures that become part of the property. These include items that would cause damage to the building if removed, so the tenant is notified which fixtures would stay if the tenant ever moved.
It is common for a landlord to amortize the renovation costs over the term of the lease, with the exception of a penalty and expenses if the lease is broken early.
There are other ways to negotiate a lease hold improvement. For instance, you can negotiate a longer lease at the same rental rate, or if you can convince the landlord that you would like to pay for the remodel, there can be arrangements for a lowered rental rate (less popular).
Maintenance Coverage
One other important item in your lease contract is who is responsible for maintenance of the interior and exterior of the building you're occupying. We often see conditions of buildings in disrepair because the tenant thinks the landlord is responsible (or vice versa), however, the opposite is true, so certain maintenance items are neglected for the duration that the tenant is in the building. The responsibility doesn't always come to light until there is a more serious (and now more costly) problem.
Wolgast takes on remodels of all sizes and can provide tips for time and money savings, please contact us when you're ready to design and construct your upgrades. Whether it is a restaurant, business office, medical office, retail, manufacturer operation or school, we are experts at remodeling most every type of commer
cial building.