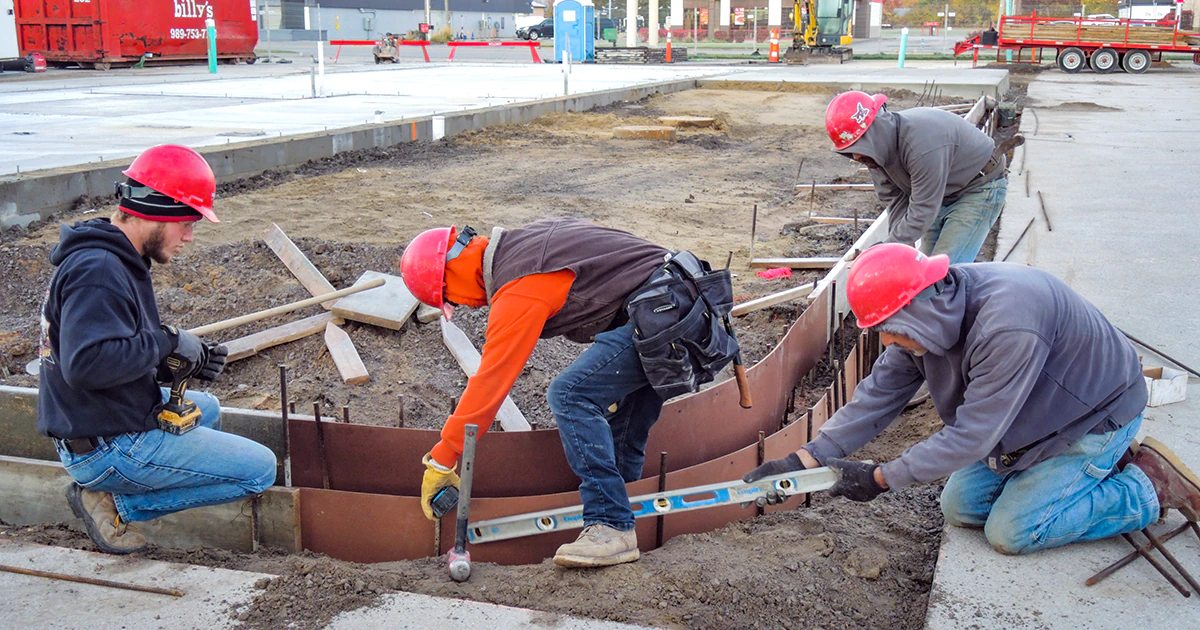 Having five options for your construction delivery means you can use a builder that provides the most efficiency, value, expertise, and flexibility you need. You can build with speed, quality, and customer service support that best suits your project type.
To us, that means that we are comprehensive and specialized in whatever is the best way to complete any type of building and solve our customer's construction needs. Our expertise is with the following delivery types of construction:
Design-Build
Construction Management
General Contracting
Restoration
Development/Leaseback Services
Bonus: Hybrid of the above services
Additionally, we have crews on staff to self-perform site work, concrete, rough and finish carpentry, and millwork when it benefits the customer.
Over the years, we have diversified from our original General Contracting service that started the company 75 years ago to better serve more industries in our market and also a variety of sizes and complexity of buildings. For example, school projects are typically spanning multiple buildings within a campus. These projects can also take a year or more to complete, especially when building a new school. The Construction Management (CM) delivery is the best solution to save money and keep track of all the moving parts and trades of these large, complex school projects. Additionally, for some manufacturers and hotels, CM can be the most valuable option to complete construction. In this process, the client or business owner holds contracts with the prime contractors, but by teaming with the Architect and Construction Manager, the supervision, budget and schedule monitoring, quality and overall progress are conducted for the client by experts who do this every day. We are the advocate on the school's behalf and guarantee that budget and time are met. Wolgast started their CM Division in 1996 and has worked with a quarter of Michigan's School Districts. Many as repeat customers.
Complex projects that take a shorter duration than a year like those for healthcare practices, professional offices, or additions/remodels to manufacturing plants and most other industry buildings can benefit from having their Architect and Builder on the same team, like the Design-Build (DB) Construction Delivery. The complexities are reviewed and resolved in the pre-construction phase with the Architect and Construction experts working together with you to determine the best course of action while your project is still in the design phase. If an unforeseen issue occurs during construction, the architect and contractor can resolve it quickly because there is no need to investigate who is financially responsible for the discretion, we (as the Design-Builder) are responsible and want to keep the project moving forward with the proper solution. This is extra precaution for the client that their needs will be met with less risk. In 1970, Wolgast was the first to start a DB Division the Mid-Michigan Region. We have our own architect on staff to provide professional design plans, but also work with several outside architects when capacity or other specific expertise is needed. This allows us to minimize the time it takes to complete design and the time to construct.
For business owners that have less complicated, repetitively constructed projects, and Construction Managers on their staff, General Contracting (GC) is a good option. In this instance, a chain restaurant or retailer that is in the business, most likely have a staff who are well versed in construction and typically their architectural plans don't change much from building to building. They have historical data to know approximately what their construction should cost and projects can be started with less time for the pre-construction phase. GC is a preferred method by some business owners (without Construction Managers on staff) who aren't aware that we do the competitive bidding for them when it comes to DB and CM. Because of the shorter bidding duration of GC it is more difficult to gain a wide pool of bidders as we do the other two delivery methods. Typically, after the design period is over for a traditional GC project, the owner wants to bid it as quickly as possible within the market to get to the construction phase, however, the contractor has had less time to get wide range coverage once the plans are released and therefore will reach less trade contractors in that time to ask for a quote. During the planning phases of DB and CM, we have time to prepare the market before the plans are complete and secure that bidders are ready when plans are ready.
In 2012, to expand our building expertise, we started a Restoration Division to restore commercial buildings and residences effected by flood, fire, wind, or impact. We had been doing some of this work successfully prior to adding the Division, but with a dedicated group that is knowledgeable about insurance claims, we are able to restore buildings more efficiently and operate within the insurance requirements better for our clients. Having the Construction and Restoration Divisions within the same company speeds up the rebuilding process when needed.
Our Development Division focuses on building programs for our clients. We are currently building retail stores throughout Michigan, making all building decisions based on the end users requirements and then turning over those stores to the retail owners or representatives. In this same capacity, we have completed Leaseback Services for Doctor's offices and other Business Owners who didn't want the construction distraction to take away from their business or upfront costs, but needed new space. We will work with an owner to build within their budget, meeting their needs, and then handing over the keys for an agreed upon contract to payback so they can eventually own their building.
Finally, there are times when a hybrid solution of all our services is needed to best deliver a building. We are flexible to merge our Divisions if it will save you time or money. Call us to discuss what works best for your business.