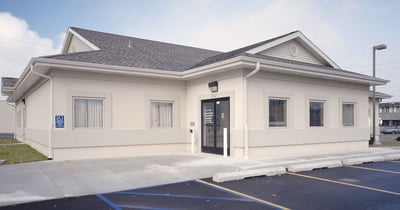 Keeping your building's protective barrier, or better known as its envelope, intact, leak free, and in good repair is a great way to avoid spending your hard earned profits on energy costs or damages. The envelope entails any part of your building structure that keeps outside elements from coming inside when closed. This includes your roof, EIFS, windows, doors, walls, and even floors which can leak and make your HVAC work harder, or worse let water in to damage your structure and/or office equipment, or cause harmful microbial growth.
Michigan's temperate climate brings its own stresses on building materials including the seasonal flux in temperature. Heat changes create expansion and contraction of flashing which can cause holes in your roof where the nails have been used to keep sheeting in place or cracks in caulking around windows. Additionally, rain and wind can cause erosion where different types of materials are connected and hail can poke holes in roofing or siding, for a few examples. When these types of leaks happen, your AC has to work harder in the summer to cool your office and regulate the humidity, while in the winter the heater runs frequently to warm up the space and add necessary moisture for comfort. Furthermore, cracks can let in rain or moisture and cause major damage to your ceiling, your structure, or result in microbial growth which can create headaches, allergies, or asthma issues for occupants. Mold that is hidden or has a moisture source that isn't entirely fixed is costly for a building owners in the long run because the quality of air your staff breathes or the exposure from outside elements can affect their health and, in turn, their attendance or productivity

What you can do: the key ways to protect your building's exterior is to check the caulk around your building exterior annually for cracks. Caulk may have a 5 year life cycle, but there are too many variables that can cause ware and tare. Hire a reputable caulking company to fix any caulking leaks. Also check your roof and roof flashing annually for any visual damage that could lead to leaks. Or if you're experiencing a leak, contact a reputable roofer who will ensure that leaks are fixed to find and eliminate microbial growth. Should you have mold or be concerned about mold, or any structural issues, call Wolgast. Our Restoration and Construction Teams will be able to help you get your office back to a leak free status to help you save your hard earned money.