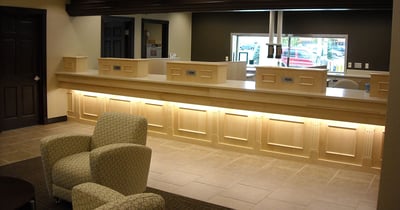 This blog is intended for small business owners who are looking to grow their business. Have you had a net worth under $15M and an average net income less than $5M for the past 2 years? Do you own your building or want to own your building? Are you still with me? If so, there's a less risky way to fund your business growth, and the best part is that it's meant to keep capital in your business so that you can support economic growth in your community.
In one of our earlier blogs, we shared with you details of the Small Business Association's 504 loan in "Easy Financing for Small Business Growth in Michigan". This program works well for small businesses who are growing, but don't have a lot of working capital to expend on real estate, improvements, or equipment. Being able to finance 80-90% of the cost couldn't be a better deal for these companies.
For those business owners that qualify, they can obtain a loan for up to $5M for tangible purchases such as real estate, equipment or property improvements that lead to job creation. The program's benchmark is for every $65,000 loaned it will create or retain one job (www.sba.gov).
The loan requirements include 10% down by the business owner, 40% low interest loan by the SBA's Certified Development Company (CDC), and then 50% from an approved financial institution. The CDC loan maturity terms are for 10, 20, or (now) 25 years for a fixed fee payment including current market rates for U.S. Treasury issues plus approximately 3% in fees. It is still a nominal rate spanning a longer term than the traditional bank loan.
In dealing with our commercial construction clients who have considered the program, we have learned more about the SBA 504 and why some choose to use it or not. First, the SBA has other loan options that it offers, but the 504 was implemented to be a faster loan process taking only two weeks or less for approval. The paperwork and approval time is typically longer for their other loans, such as General Small Business Loans, Microloans, and Disaster Loans.
Also, the SBA 504 is set up to offer a low interest rate and a fixed monthly fee for the duration of the loan, either 10 years for machinery and equipment or 20-25 years for real estate. Whereas a traditional bank loan "resets" every 5 years and the interest rate always increases at that time, so you'll likely pay more every five years.
Finally, some banks are less willing to engage in a 504 loan because there is significantly more paperwork involved than traditional commercial loans. So it's a good idea to check with your financial institution to determine whether they offer the 504 loan option. Some banks that are otherwise not willing to engage the 504 will do so for well-established clients with whom they have a relationship with.
Either way, for those who qualify and need to keep capital in their business while growing, it's in their best interest to check out the SBA 504. To get more information on the programs specific to Michigan business owners, go to www.michigancdc.org.
If Wolgast Corporation, progressive Commercial Contractor and Design-Builder, can be any assistance to you during this process, please feel free to contact us at 800-WOLGAST.