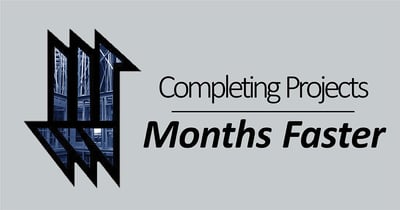 However, let me note that for retail and restaurant chain owners that have simple layouts and a construction staff to repeatedly manage their work, General Construction is likely almost as fast for their projects because there is reliable historical pricing data, design is usually simple, and their internal construction managers know what to expect on each project. Therefore, the bidding and selection process is much shorter in duration.
For those of you who are building for the first time (or the first time in a while) and don't have a construction team on your staff, you'd benefit most from Design/Build with its time savings and all-inclusive nature. With Design/Build, busy doctors or business owners can remain focused on their business while the Design/Builder handles their whole project from design through construction. If you qualify as a busy business owner, you'd likely benefit from a Design/Builder finding the subcontractors, managing the construction schedule and your budget, and starting construction quicker.
The Design/Build method of construction results in a finished building faster because with the architect and contractor on the same team estimating can start, permits and materials can be ordered, equipment can mobilize and sometimes even site work can begin before the architect has the plans finalized. Alternatively, General Construction requires time for bidding after the design is complete, so none of the above activities can start until the bids are in and a contractor is selected--these activies can take a month or more to complete. With Design/Build, we will be ready to break ground once you sign-off on the design, which can save you months of construction time and get you working in your new space quicker.
What could you do with a couple months head start?
Interested in learning more? Contact Michael Shepard at 800-WOLGAST (965-4278).