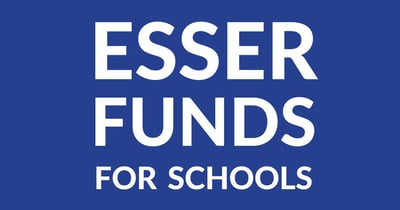 There are so many decisions to make as schools get back to in-person learning and doing everything they can to make school safer, catch students up from remote learning, and expand mental health accommodations, among other needs. School leaders, administrators, and teachers have so much on their plates, oh, and are also dealing with volatile views from parents about how to handle it all.
The CARES Act ESSER Fund is meant to alleviate some of the pressure while making schools cleaner and safer, and allow school leaders to determine how to make in-person or virtual learning more impactful for students at every learning level and socio-economic status. The ESSER Funds are significant funds with some flexibility about how to use them. There is a list of items that can be covered or provided by the U.S. Department of Education and schools can pick and choose how to apply the funds.
Among many other applications, ESSER Funds can be used for replacement of items involving indoor air treatment. Allowable uses include HVAC, doors, windows, flooring, social distancing, and more. Unknown to most, there is a path, albeit narrow, that does allow ESSER to be used for new construction. All uses of funds do need to be approved by the Michigan Department of Education, however.
There are many ways that ESSER funds can be utilized and we are assisting School Districts across the State to strategically make plans to use these one-time allocations so the funds are most impactful.
Wolgast's Facility Team can help schools to assess their needs. They are former School Superintendents who understand what schools are facing. And should a school's plan involve their HVAC system, we can help with those building changes.
Call us for a free assessment and we'd be happy help you develop a plan or view our Education Construction Services page to find out more about Wolgast's Construction Management Services.