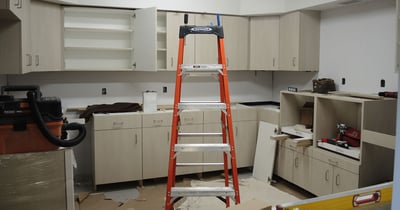 And Other Remodeling Insights
The idea of an "office remodel" covers a broad spectrum of happenings. We've completed those that are elaborate and include removing walls to change the layout of the floorplan and others that are as simple as paint and flooring. I did a quick assessment of the office remodel projects we've completed over the past few years and the majority included lighting, new doors, flooring, and bathroom updates. While we're capable of completing the more elaborate type remodels that include moving walls and rearranging the layout, the reality is that more often the simple updates and efficiency of new lighting or technology are what is needed most frequently. It may be that the materials being replaced go through the most wear and tear and need to be changed more frequently, or that they are simple, inexpensive changes to pump a refreshed feeling into an office setting.
When remodeling an office, the little touches of flooring, doors, trim, and/or paint can add new life through color and a freshened appeal as we found out with our own interior remodel for our Construction Management Department last winter. The completed transformation of the office involving carpet, trim, doors, technology upgrades and wall covering throughout the offices, hallway, and conference room left our staff feeling renewed and plainly put, refreshed to come to work. "It's more modern and vibrant, like we're in a new office," stated Judy Rauch, Project Administrator for Wolgast's Construction Management Team.
Furthermore, the advances that have been made in interior lighting help building owners to save money and also are less harsh on the eyes than the old fluorescent lights we've been accustomed to. The new bulbs use much less energy and don't need to be changed for a long time, if ever. When I initially interviewed our Project Managers about common renovations we do, Lighting was the resounding answer as one of the best updates a business owner can do for their office.
Additionally, the need for access to technology and plugging into technology has increased and created a new need for recharging stations and other technological support in office settings. According to NPS Commercial Interiors blog Workplace Real Estate: Connected + Hardworking, "walls are no longer just space dividers. They can embed technology, lighting and other work tools to ramp up collaboration and leverage more vertical real estate." In the article, NBS introduces several products that easily accommodate technological needs into the modern office by going vertical.
Finally, the best office remodeling advice that we can offer is to complete it in the winter. Contractors, subcontractors and vendors are typically less busy at that time, so demand is less and supply is elevated, and you know what they say about supply and demand. Besides, we like indoor work the most when it's cold. Please contact us soon to discuss your remodeling plans, big or small, and we could* have you renovated by spring!
For more on remodeling information: Five of the Best Reasons for a Commercial Building Renovation
*This is not a guarantee, but we'll do our best to meet your goals.