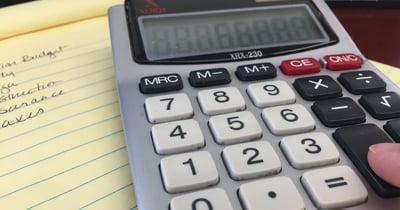 The Jack Miller Group was a former industry network for General Contractors across the United States. In 1988, Mr. Miller had published a paper called, "Rules You Should Know before You Build Your Important Project". He started by stating that there are a few basic questions that business owners should ask themselves as they start to plan a construction project1:
Why expand?
Why own…why not lease?
What do I need?
What can I afford?
Where is the best place to build?
Where can I get financing?
When should I start?
When should I occupy the new facility?
What is the best way to build?
How can I be sure I get maximum value for my investment?
These questions are still a good place to start planning prior to contacting a designer or building team. However, I asked our project team what they thought was most important to see if there were any updates to Mr. Miller's list. Their response was 1) a budget and 2) who will do the financing. This is because knowing the budget early will help a business owner to know if what he or she wants to do is reasonable and having the financier in place will help speed up the start date.
Next, our team thought that the business owner should know that their contractor and architect have good liability insurance and that they are capable of handling the entire project. When making a contractor or architect selection, the business owner should inquire about insurance coverage, bonding ability, safety records, customer/ trade/bank references and financial proof that the project team can complete the building. Additionally, it's good for an owner to know that he or she has construction delivery options. Design/Build is a better option for certain types of buildings because the architect and contractor are on the same team under the same contract. It provides time and cost savings and results in less disputes as to the responsible party when there is an issue during construction. However, Design/Build isn't suitable for all projects, so other options we offer are General Construction for simple projects or Construction Management for complicated projects that are long in duration. Investigate which method will provide the best outcome for the type of building.
It's good to know the area or type of property desired to build or renovate. A business owner doesn't need to settle on a property before meeting with a contractor. The contractor may even be able to suggest a property that hadn't been considered, but could meet the business' needs while being more economical because the utilities already exist or the zoning has already taken place.
Additionally, a business owner can benefit from knowing that bidding in the winter and building in the spring/summer, or even early fall, can save money on a construction budget. In the winter contractors are less busy relatively to spring/summer, so they're looking for projects in the off season to fill their calendars during the prime construction season. Scheduling design to be completed in time for winter bidding will get the most value for the construction dollar.
A professional contractor will then handle the other critical items that need to be complete before construction on behalf of the business owner, such as conducting site inspections, determining zoning requirements, obtaining construction permits, conducting utility checks and calling Miss Dig among many other necessary activities to get construction complete efficiently and accurately for the most value. Wolgast is a full service contractor and we will professionally deliver your building. Call 800-WOLGAST to get started.
1Miller, Jack. 1988. "Rules You Should Know before You Build Your Important Project." Group Communications, Inc.