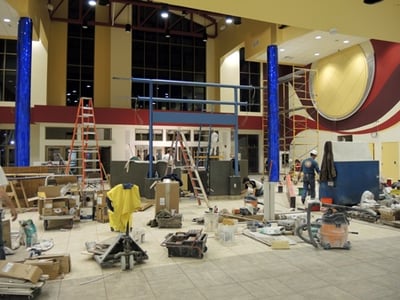 Uncommon (and Common) Reasons to Use Construction Management
One of our Construction Management (CM) clients recently stated that starting a large construction project is similar to drinking from a fire hose. He has appreciated relying on us to help him through the process. If you don't know, CM is a construction delivery method where an owner hires both the Architect and Contractor on the team before the design process begins. The Owner, the Architect, and the CM work together to identify the scope of the project, estimate the budget, and determine the schedule. During the Design Phase, the Architect is responsible for creating the design based on the scope, and the CM estimates the budget needed for constructing it and coordinates the schedule. During the Construction Phase, the CM finds the subcontractors and oversees construction through the Warranty Phase; the Architect offers checks and balances to ensure that their design is executed accurately and that schedules and budgets are met. This method is typically suited for most large projects that either span more than a year, involve more than one building, or both. It is also suitable for other types of projects in instances described below.
Benefits of Using CM
Common benefits of CM include the use of wide spread resources/contacts, vetted construction experience, and scheduling/coordination abilities. A CM isn't necessary to keep large projects on track, but having the support, construction knowledge, and established relationships with subcontractors helps a large project run smoothly and feel less like "drinking from a fire hose". There are also uncommon benefits of using CM services. For business owners whose clientele includes members of the construction industry (i.e. churches, banks, auto dealers, membership organizations, etc.), they now face becoming the customer to several of their standing clients who may be expecting a returned "favor". A CM is able to break down work scopes to include more opportunities for subcontractors and in turn involve more of their clientele to keep them happy, or help the Owner narrow down a tough decision when needed. Finally, the CM approach offers an "open book" relationship in which fees or costs associated with the project are known and directly shared with the owner, and the CM's fee is fixed.

Wolgast's CM Department was established in 1996 and we're systemized to provide efficient services to focus on construction while you focus on your business. We've been responsible for more than $2 Billion worth of in-place construction for a third of the school districts in the state. We've also been the CM for hotels, manufacturing operations, colleges, medical facilities, financial institutions, entertainment establishments and municipal projects. Contact Steve Salyers, VP Construction Management, to see if CM is the right fit for your upcoming project at 800-WOLGAST. According to Steve, our CM team is "the Owner's professional representative who maximizes the value of each dollar the Owner spends."
Also Read: How Economies of Scale Works in Construction and The Inside Scoop on the Construction Manager at Risk Delivery Method